Posts Tagged "AFL-CIO"
Let us carry the spirit that was entrusted to us…
–

לאָמיר טראָגן דעמ גײַסט וואָס מען האָט אונדז פארטרויט
Albert Einstein said, "Many times a day I realize how much my own outer and inner life is built upon the labors of others, and how earnestly I must exert myself in order to give in return as much as I have received."
This year, on International Workers' Day – also known as May Day – I would like to take the opportunity to acknowledge my Actors' Equity colleagues and industry comrades. An effective Labor Union must be a well-oiled machine, and each person's individual contribution, no matter how small it may seem, is truly significant. So I would like to thank ALL of the people who care enough to make Actors' Equity Association a priority:
– The Deputies, who take on the risk of being labeled 'troublemakers' for representing their fellow Actors in the workplace.
– The Area Liaisons – forever on their cell phones to the business reps, while keeping a watchful eye on Equity theatres in the Regions.
– My fellow Councilors, especially our elder statesmen, who sit in negotiations, caucuses and endless meetings for many excruciating hours, days & weeks… making sure that no stone has been left unturned, no question left unanswered. I owe a great debt of gratitude to their experience and years of sacrifice.
– Our overworked Staff, who have chosen to make a career of protecting professional Actors. We're a hard bunch to please, so hats off to them!
– The Broadway League and Producers – our dedicated bargaining partners and employers – who've made the commitment to hire Union talent when they produce professional theatre around the country – and to treat professional Actors and Artists with the dignity we all deserve.
– But most of all, I'd like to thank the Members who choose to show up: for town halls, membership & committee meetings, rallies, fundraising events, even to stand on picket lines when asked. We show up because we genuinely care about our industry and each other.
On this May Day 2014 – when Congress continues to debate the Minimum Wage Bill – we also stand united with our sister and brother Unions, and with Workers around the country and the globe – men and women who still need our support in their struggle for fair treatment, a decent wage and a safe workplace. As we stand shoulder to shoulder, I am proud to count myself among my fellow activists and call myself an Equity Actor and a Proud Union Member.

How will you celebrate this May Day? #EquityWORKS #AEA2ndCentury
Read More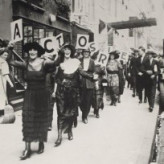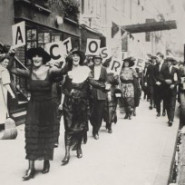 Get out the Vote!
I've served on the National Council and Eastern Regional Board of Actors' Equity Association as a Chorus Councilor since 1999, and this year it is my privilege to run for a Principal seat. Below is the text of my speech from the Equity Membership meeting on April 10, 2014:

I owe a great debt to Actors' Equity –and the Men and Women who've sacrificed themselves for over 100 years so we can have careers as professional Actors –

So when we step onto the Stage, we can be Artists-
When we walk out of the Theatre, we can have Real Lives-
And while we're doing our jobs, we're treated with Dignity and Fairness. Our livelihoods, health and safety are a top priority, and we don't have to be the squeaky wheel at work – because we know our Union has our back.

My first priority as your Councilor is to LISTEN: To your needs as members, to our experienced Staff, to my fellow Councilors across the country and to my Conscience. Information is Power, and that's what makes us strong.

My next job is to SPEAK UP on your behalf. So as we negotiate stronger salaries, terms and protections, your voices are represented in the discussion. And anyone who knows me even a little, knows that I speak my mind, and I am not afraid to disagree or be in the minority. That's how we effect Change.

Finally, I want to talk about Solidarity, which is the backbone of the Labor Movement. We all come from different places, we have different opinions and different work experiences – be they Stage Manager, Principal, Chorus, Understudy, Swing, and the new normal, Actor/Musician – and we each have our own needs –

But we will Stand for Nothing if we do not Stand as One.

Please read my Statement in the Equity News and Vote with your Heart.

I'm Joanne Borts, I'm your Councilor and I have your back.

Thank you for caring about the future of your Union!
Read More