Posts Tagged "Broadway"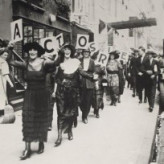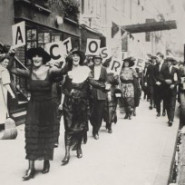 Get out the Vote!
I've served on the National Council and Eastern Regional Board of Actors' Equity Association as a Chorus Councilor since 1999, and this year it is my privilege to run for a Principal seat. Below is the text of my speech from the Equity Membership meeting on April 10, 2014:

I owe a great debt to Actors' Equity –and the Men and Women who've sacrificed themselves for over 100 years so we can have careers as professional Actors –

So when we step onto the Stage, we can be Artists-
When we walk out of the Theatre, we can have Real Lives-
And while we're doing our jobs, we're treated with Dignity and Fairness. Our livelihoods, health and safety are a top priority, and we don't have to be the squeaky wheel at work – because we know our Union has our back.

My first priority as your Councilor is to LISTEN: To your needs as members, to our experienced Staff, to my fellow Councilors across the country and to my Conscience. Information is Power, and that's what makes us strong.

My next job is to SPEAK UP on your behalf. So as we negotiate stronger salaries, terms and protections, your voices are represented in the discussion. And anyone who knows me even a little, knows that I speak my mind, and I am not afraid to disagree or be in the minority. That's how we effect Change.

Finally, I want to talk about Solidarity, which is the backbone of the Labor Movement. We all come from different places, we have different opinions and different work experiences – be they Stage Manager, Principal, Chorus, Understudy, Swing, and the new normal, Actor/Musician – and we each have our own needs –

But we will Stand for Nothing if we do not Stand as One.

Please read my Statement in the Equity News and Vote with your Heart.

I'm Joanne Borts, I'm your Councilor and I have your back.

Thank you for caring about the future of your Union!
Read More
It's a dream come true… "Once" is certainly one of the most beautiful Broadway shows I've ever seen, and I am so grateful to be a part of it!  I have the privilege to understudy the role of Baruška, brilliantly performed by the magnificent Anne L. Nathan.  Come see us at the historic Jacobs Theatre every night – where Grease broke the record for longest running show on Broadway… And best of all, I get to play my accordion with this outrageously talented band of performers.  LUCKY ME!!
Read More